Hi Guys!
A few months ago I made a topic about converting my mountainbike to electric, I got very helpful reply's from members of this forum (thank you! especially:
Aussiejester, Thud and sona1111
). Today I turned 17, and I finally bought some stuff at Hobbycity for my MTB. (I actually bought a present for myself lol) The MTB I'll convert is a little old and rusty, but I think it will be OK. Some old pics of this rusty thing (I'll disassemble all the parts, clean etc. them and then re-build the bike before I'll convert it):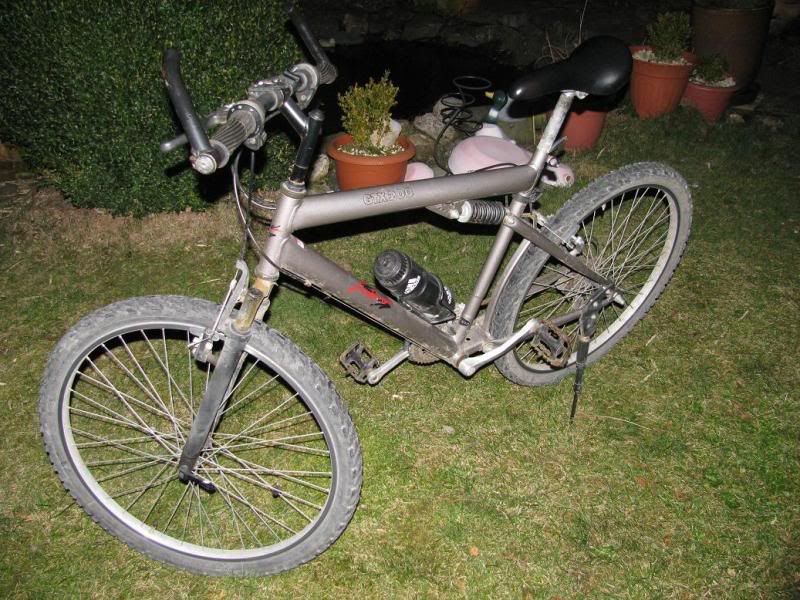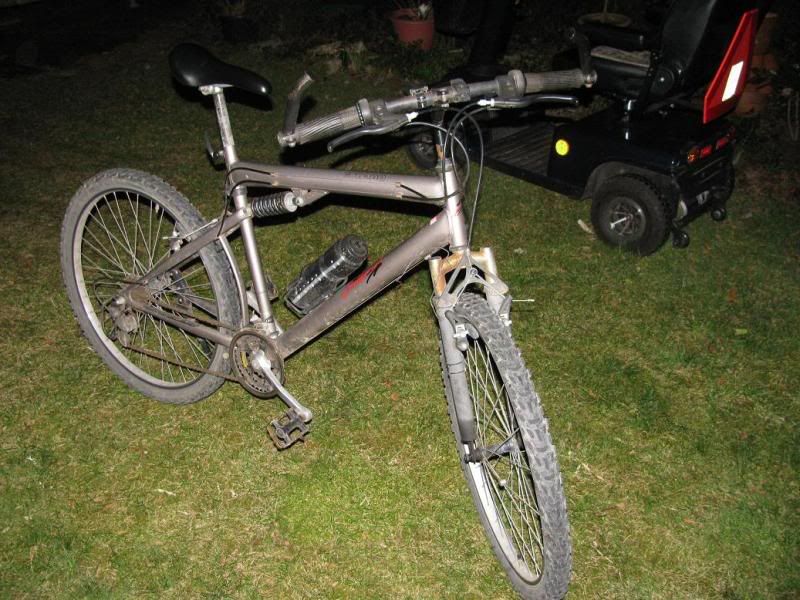 Now to the things I just bought at Hobbycity (a total of $480
):
- Turnigy 80-100-B 130Kv Brushless Outrunner (I know, overkill
)
- 2* ZIPPY Flightmax 5000mAh 5S1P 30C
- iCharger 3010B 1000W 10s Balance/Charger
I'm very curious about how this thing will perform, at this moment I've got a cheapo 50Watt charger
- Turnigy Servo tester
- Turnigy HV UBEC (8-42V)
- Some small things like connectors, ball bearings, thread locker and some other things for my other hobby (RC-cars).
Things I still have to buy:
- Castle Creations ICE HV 120A ESC
- Gears, shafts, aluminium, caps etc.
I'll only use 2* 5Ah 5S 30C LiPo's in series, but gear the bike down to about 35MPH to get the current down. As reduction unit I'll try to make something like Mud2005 has:
http://www.endless-sphere.com/forums/download/file.php?id=31041
, a belt driven system from motor to a shaft, then a chain driven system on the other side of the shaft.
3 questions about this:
- Where to get a hardened shaft?
- Where to get the 'belt drive system'; a small 12mm inside dia. gear, a big gear and a belt? (Sorry my English isn't that good, I don't know the name of the parts)
- Where to get a freewheel + sprocket that will fit the hardened shaft?
I'm still not sure how the sprocket/freewheel on the shaft will drive the rest of the bike as I want to be able to paddle too.
I'll keep you guys updated...
Oh, and for you who want to know why I'm calling it the BE-Bike: as you see I bought the first things on my birthday, so it's a Birthday Electric Bike
I know that doesn't makes sense lol