Is something like this what I need to step down 48-52V DC to 12-14V DC?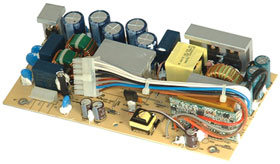 http://www.powersupplydepot.com/-48V_Input_12V,_17A_DC_to_DC_Converter_Phihing_18093_PS.asp
Looks like it would work, but it's big and needs 35CFM airflow. Any better options?
They have others as well. One has 4 outputs: 3.3V, 5V and 12VDC x 2.
The latter would be ideal for running separate circuits for headlight and taillights/marker lights.
???