Pre-PS: before you even wade through this BS, know it is NOTHING to strip a plain bike frame to its bare frame.
But that's not my option here because I pullled the MANY wires from the controller and C.A. through the big, curving up-tube of the frame. Those wires are basically there to stay: I can cut and splice, but no way am I gonna ever pull them all out to remove either the controller nor the front wheel from the harness: I'd wire-snip first It was difficult for this noob to do away with all the eZee FUGLY quick-disconnects and their three extra feet of wire. I cut the cables, hard wired, soft soldered, sealed, pulled and made it impossible to easily take the bike down to the bare frame for an easy, quick, perfect spray paint job.
That is why I am brush painting the essentially-assembled bike. Look ma: no house stink, no overspray, no.. just a brush and a bottle of yellow oil paint.
+++++++++++++++++++++++++
OK. Pictures tell all. That's the special, soft brush.
Get the crap on quick, quick, quick, then "tip it off", catching runs
and bubbles, streaks, as you can. This is only a first coat.
Do not go back to fix tiny problems ten minutes later; only if you find a big drip or run;
the brush mark will be
yucko
.
I cannot emphasize too strongly that alkyd enamel is not like the fine color varnishes of the past:
it does not lay out
like even greasy glass
unless you thin it with a bit of mineral spirits (white spirit) or xylol,
and spray
. Even then it won't have the "wet look" of catalyzed polyurethanes, etc.
BUT WE ARE NOT going to spray this bike frame: it is not to be torn down just to spray-can-paint the frame.
BECAUSE
alkyd is without "oil", it contains no internal slip when wet
, not to speak of, no better lay-out, nearly, than latex house paint, sure,
but
sheeeeesh
,
this stuff is as terrible
-brushing as I recall from years ago!
It does not seem much likely to self level.
It will look a lot better when dry and then second-coated. But nothing like I used to get from spray or
japan varnish. A coarse brush would make an even worse result. : There are, at West Marine (USA),
boat enamels that brush out pretty well: modified alkyds, silconized to give them some ability to self-level.
But not so with this sort of paint: and I needed a particular yellow anyway. And yellow is not a great pigment for brushing;
black is the easiest paint to brush smooth because it contains such a low solids content; it flows best.

First coat, then age it, then wet sand and a second coat:
and whatever it turns out to be: so be it. If I wanted a super level, shine,
I could've elected to strip the bike to bits and spray it with acrylic enamel from the auto parts store.
Duplicolor (USA) spray can brand, auto parts stores, lays out very nice,
but NOT IN THIS WEATHER: it is

too hot and too humid

to spray can paint; it will orange peel and blush.

Quality spray enamels, lacquers and "epoxy" (they are not true epoxies) in spray cans give GORGEOUS
results if and when you prep and then spray in a cool, DRY, clean environment. I can't do that now.

Guys, this is summer in Miami. It is too hot and humid for good spray results outside of an air conditioned pro or home-made booth.
Only pro polyurethanes with retarder (anti blush), or spray gun acrylic lacquer with "hardener" and retarder; can't use ANY brand of spray can paint in this weather, and I'm not about to buy a spray gun again
and futz with all that work of cleaning the gun and this and that, filtering the compressed air, etc.
Not for a single bike paint job like this; what a mess of extra work a pretty paint job would be
for a bike

I crash weekly

.


From ten feet away it should look like 500 dollars. Huzzah!

From one foot away:

I think I may have a fifty cent-looking paint job. So be it.
We shall see.
I hope all viewers have bad eyesight.

I'm just fumbling along, but oh, how I miss what I used to get from my home-made japan black varnish:
black mirror, absolutely perfect, exactly like black mirror, no exaggeration.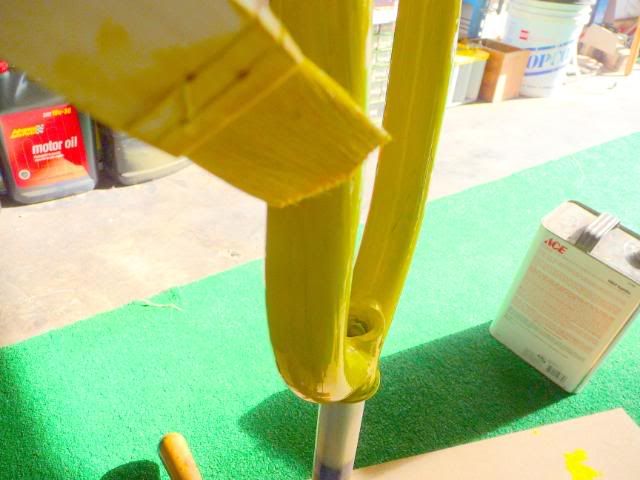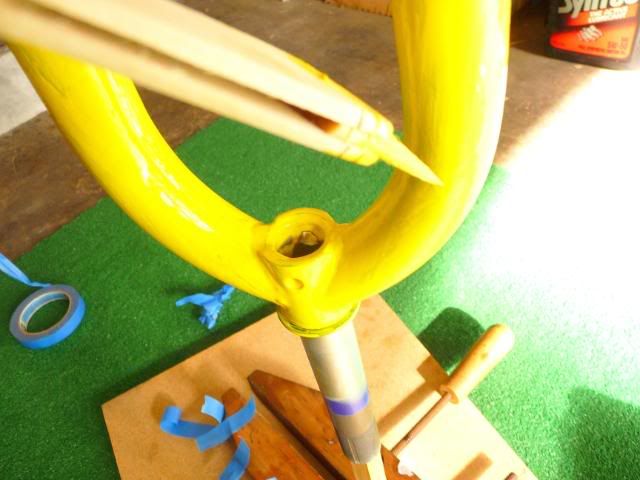 _________
I am so damned egotistical
,
but as we used to say about Clara Rockmore, I knew her, Google her,
telling it like it is is no great sin when you are simply telling the truth.
double click on the player and "HQ" playback it if at all possible.
This is a highly specialist video of no general interest.
I may put it in the paint thread, just to ensure that people know what a brush can do
if you KWYADAWYADI. I made this varnish, black, myself: the only living human on the face of this earth who knows japan black this well. All the old guys who made and applied this stuff are long dead,
and they did NOT write down their trade secrets, not as a rule. I am the only living person with actual experience with
this amazing, old time varnish (for it is not actually paint), which was the standard finish for early bike frames,
and so many metal goods: dip, drain, dry, bake, repeat: you had a glass hard, tough, flexible wonderful black,
blacker than ANY paint made to-day. I use old spellings because I'm eccentric. I also lack mental
co-ordination now. Tired out.
_________________
edit #1. there are typos to be corrected, various small defects. But I am so tired, so tired.
It's an interesting fact that brain work is more fatiguing to the human body than physical labour.
Now, given that over-exertion affects me in an SLE way: I wear out in an hour. I cannot leave the home for more than an hour at a time;
I have to lay down and nap. I'll fix this yakkedy-yak-yak post eventually; just not now.
Time now, vitally needed, for zoning out entirely.

edit number two, I just woke up from a nap. the paint, thank Benjamin Moore and damp weather, is still wet to the touch four hours later. (I touch the bottom of the crown tube, an unseen area, to test).

What this means: the paint has been so slow to "set" that it HAS INDEED leveled out, quite well enough, so far as my artificial light can tell. I will know more tomorrow in the bright sun, when I can really see,
but so far, as it is, just one coat (two WILL be needed), it looks very, very good for brush work.
It will all turn out OK after all. It won't look like a kiddie-with-house-paint job after all. It won't look like a
milllion dollar bike, either, but I don't want that, not at all. I just want a safety yellow, that I WILL be seen from afar by soccer (football in yourope) mommies, oblivious and distracted, in Hummer H2s.