Edit:
Rather than starting a new thread I thought I would add this info here. We will tear down & re-wind a brand new Turnigy 80/100-130 from scratch.
Step 1-Disasembly:
#1 inspect the shaft for any nicks or bump that would impead the removal through the bearings.
#2 remove the 4 inside bolt circle 5mm cap head bolts & remove the end cap (its a light press fit & pops off easily)
once removed your motor looks like this: (notice the yellow Phase wire was actually shorting to the end plate..this is a brand new never run motor!)
#3 remove the circlip & spacer...& the 4 screws holding the skirt bearing to the can. use a proper fitting screwdriver as the screws are kinda soft.
#4 Using a plastic faceed hammer, gently tap the end of the shaft a few times, this will losten the skirt bearing from the can, once free we are ready to press the can off the motor.
#4 press the magnet can out of the bearing tube. You see I am using the stock motor mount to gain some purchase, I use a singe bolt from the end cap. My technique is to hold the motor mount with my index fingers & press the shaft out with my thumbs.If the shaft is properly smooth it will slide right out.
BE CAREFULE the magnets are very strong & if you change your grip you can potentialy receive a nasty pinch.
you see I had a slight burr on the end of the shaft & its hanging in the bearing race. i just installed a 4mm cap head screw & tapped it through gently.
Now you can tap the skirt bearing off the bearing tube. use gentle taps & apply preasure 180 degrees to the bearing & it will pop right off. Next remove the bearings from the tube, I use a length of 10mm rod witha very square face on it, reach through on end to catch the inside race of a bearing. Now alternate tap's in 180 degree incremants & the bearing should slide out also.
congrats. you have diassasembled your motor & it looks like this.
In close up you can see sevearl "flyers" or loose wires scattered about the stator.Lots of human error found throughout the assembly...several single strand shorts were obvious..but these are wound with 90ish strands of 33g wire so I don't really know if this motor would survive very long in its intended applicaion. My big concern is the shorted phase wire...so I dremeld all the razer egdes back & smoothed any areas that may come in contact with the wires
FREASH WINDINGS
Lets get rid of this original set up & build us a motor, that you can't buy.
1st I use a cut off wheel on the mighty dremel & make a slot through the super glue the cheaters used to holde the windings on the stator. We are very careful not to cut down to the stator & damge the precious green epoxy insulation on the stator.
Once through the boundry layer of glue I use a utility knife to cut the remaning windings. Careful fiddling witha Jewlers screwdriver & needle nose plires will clean the stator.
RE-WINDING
This motor origanly was an 8 turn/delta & will become a 6turn/wye with 2x 14g wire.
Just to over veiw the changes:
(all #s taken from "Drive Calculator")
parameters----------Stock-------rewind
coper cross section--18.9--------25.0
R (mohms)------------30.1-------13.5
Delta R ---------------20.1--------9.0
WYE R-----------------60.2-------27.0
COPPER GRAMS-----254.5------357.7
Addendum: just confirmed the re-wound kv is 133
I spun the motor in a lathe at 800 rpms & it genrates 6.01v on each phase
rpm/volts=kv IIRC.
You can see the re-wind video
http://www.youtube.com/watch?v=7i_GIXxUlQM
(remember...low expectaions)
Here it is all wound up & ready to rock.
& next to another stocker:
Additional Notes:
I did not take the stator off the bearing tube for this project.
must build a decent Dyn-O- mom-O- meter...need to re-read Jeremys links on load sensors.
hope this answers a few questions I been getting via PM's
Added 4/28/2011: Winding information to answer questions about KV & wire Lengths
1st is a chart of turns & expected KV result. This is completely credited to MrJerremy Harris, & has proven to be a valuable quic referance for me.
ve been trying to reverse engineer the constant to estimate Kv for this size motor, based on the sparse data we have at the moment. This is what I've come up with in terms of turns and Kv:

Turns - Kv
1 - 1060
2 - 530
3 - 353
4 - 265
5 - 212
6 - 177
7 - 151
8 - 132
9 - 118
10 - 106
11 - 96
12 - 88
13 - 82
14 - 76

These figures are pretty much the best fit I can get to the known data points and would apply equally to someone rewinding an 80-100 motor.

Again, Thanks to Jeremy Harris.
I have found this chart to be super acurate with the 80/100 turnigys & all rpm's are assumed terminated in Delta...
for the Lower rpm Wye termination, Divide by 1.73 to get your Kv example- 132/1.73= 76kv
See how flexable these are for getting anything you want?
Next are some Jpeg's of drive calculator with some winding senario's
I compair the copper cross section's & resistance values of the wind senario..to get an idea of what I will end up with.
next some info for the 80/85 motor:
that ought to get a few guys introuble
Added 5/21/2011:
I have been testing & blowing bicycle controllers for almost a year...I have a small 63mm motor running in external halls that allways just worked....& have been fooling around with external hall sensors on the 80mm motors...today I went internal and can finaly say. The XieChang controllers will operate the motors satifactorily.
1st time out: NO throttle cut outs, wheelie power in low gear is restored! still a little soft on the high gear acceleration, but I am only programed for 88 phase amps ATM...controller ran cool, motor runs cool after a mile or WFT. time to ship this one out & ake some one famouse!
******************Begining of Original Post starts here******************
Hey guy's,
thought you may like to follow along on my rebuild for the Aussie Jester's smoked motor.
Here is some data
original wind 8 turns DLRK with 98 strands of .007" magnet wire (33awg od metric .18)
I will attempt a 7 turn DLRK with 2 strands of 14AWG wire (the good stuff 200c) 1 strand is = to 82 strands of 33 gage.
(edit: corrected strand equivency
)
This by my math is doubling the effective amount of copper in the stator. Here are some teaser photos to get the ball rolling.
see the shorted coil?:
upon inspection it looks like a loose section of winds just ran into a thermal runaway not being able to heat sink into the rest of the coils & ultimatly the rest of the motor. cooked of the insulation & only got worse from there.
1/2 hour with a heat gun got the stator loos from the bearing tube.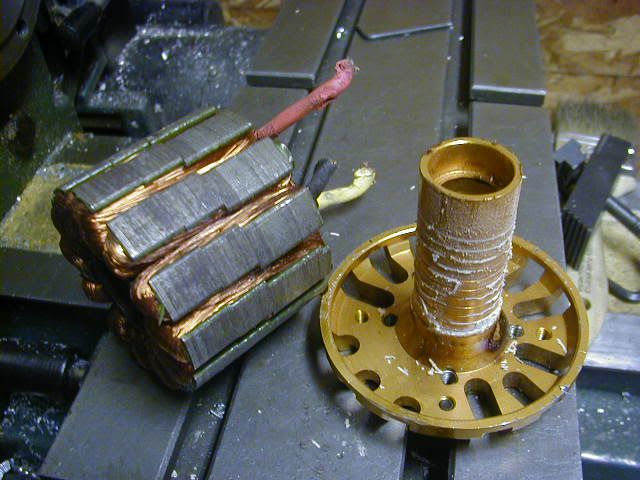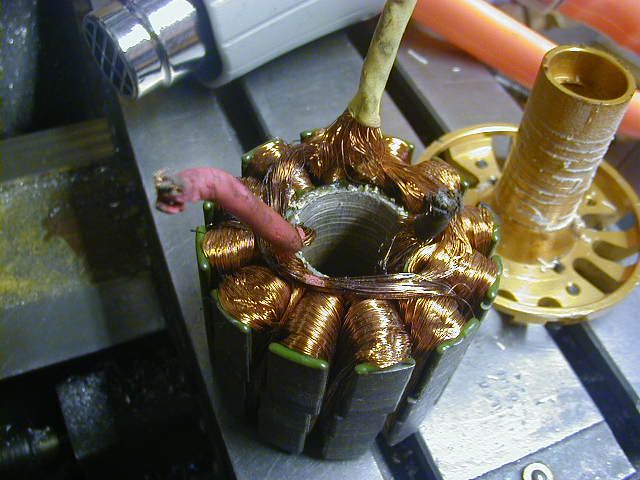 Its too hot to keep working so I am going fishing now. back later with some updates.