AZeBikeGuy 10 W



Posts: 92
Joined: Sep 06 2016 2:58pm
Location: Arizona
---
All Sur-Rons are Segways, not all Segways are Sur-Rons...
¯\_(ツ)_/¯
---
"Just don't call them Sur Rons…
If you're getting déjà vu or you think these electric dirt bikes look familiar, you might not be mistaken. They look a lot like the Sur Ron electric bike.
When I asked Julie about this, I ended up learning something new:
"Sur Ron is actually in our ecosystem. We're the largest shareholder of Sur Ron."
So it's not so much that these are Sur Rons, but rather that Sur Rons are Segways.
Though in actuality it's a bit more complicated than that. While the X160 and X260 are based on the Sur Ron platform, Segway did more than slap a few stickers on them. Julie explained that the company re-engineered the design in critical places to make the bikes more robust and improve earlier issues with the original design.
And while the original Sur Rons are a bit more obscure, limited largely to the high-power electric bike crowd, Segway hopes that its X160 and X260 will appeal to a wider dirt bike audience. And while Sur Rons are generally purchased online, Segway-Ninebot does a lot of retail sales as well, which could help put this platform in front of a wider audience."
https://www.google.ca/amp/s/electrek.co ... r-ron/amp/
---
If the Segway version comes with a Certificate of Origin and/or Title and a legit VIN number, the difference in cost will be well worth it over Luna in the US for those looking to go street legal and insure.
¯\_(ツ)_/¯
---
spinningmagnets 100 GW



Posts: 12240
Joined: Dec 21 2007 10:27pm
Location: Ft Riley, NE Kansas
---
Exact opposite actually: Segways are Sur-Rons. Guess who did all the actual design work and engineering. Some guys in China probably but that's another story.
Sur ron is too expensive and too low performance to capture a good market. Yes we have a bunch of owners on here who think they're happy but you know what?
--Want a street vehicle with power? Get a Zero (or some combustion bike for a fraction of the cost)
--Want an offroad fast ebike? Build your own with the same power, half the weight, and better components all around and infinitely more stealth so you can actually ride it everywhere.
Want to get screwed with a low power, heavy vehicle that you can't take on bicycle trails or legally ride on the street? Buy a Sur-Ron!
---
I have only really seen one segway in real life, i was riding at night in the summer around 7 or 8 and a guy comes riding along, we get to chatting. He bought his used, battery dead.

I've seen other segways for rent downtown near china town once, it lasted a year or two, maybe longer, but I dont believe I saw anyone actually riding one. They are huge!

I have seen two self balancing one wheels, but not sure if they were bought or built, one was downtown and the other deep in the hood in Marlborough while I was having a bite at BKing. They sure do look compact, and probably a better mode of transport then a segway as you could lift and carry the self balancers. The toy standup two wheel (left foot wheel, right foot wheel) 'objects' are a joke, I've seen a few of those around. Maybe for short distances, maybe there are better built ones out there. But I would go with an e-skateboard over one of the scooter types wheel ahead of you and behind you, instead of beside you.

Sur-Rons are too expensive, they look like a motorcycle so not worth it at all, not one bit if you want to ride in the city, on pathways, on sidewalks, on roadways and blend in like any other bicyclist.
---
I'd take a one-wheel over an e-skate, e-scoot or segway for commuting. Probably over an ebike for commutes under 2-3 miles or if able to use public transport to boost range.
They are intuitive and able to tackle surprisingly rough terrain.
---


Posts: 1856
Joined: Feb 15 2013 4:43pm
segway has grown from a micro mobility transportation device into a global ev brand.. there latest products etc will be on display at CES show.. electric dirt bike, electric scooters, mopeds, etc..
I like the electric street motorcycle .. maybe it will come to market ??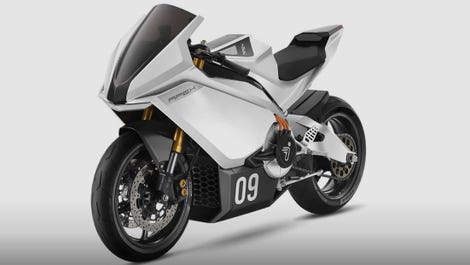 some ride & sk8 videos:
metacafe.com/channels/NATAS666DAMIEN
http://www.youtube.com/natas666damien
i have nothing for sale..
---
So has anyone started a thread on doing this? I want to do this but cant afford to experiment. Has anyone dialed in what components?
---
nealio

wrote:

↑

Apr 04 2021 10:09pm

So has anyone started a thread on doing this? I want to do this but cant afford to experiment. Has anyone dialed in what components?
Yes, many times over, look at the sig lines of the users and you will see their builds, they list the parts, some of them are a little cryptic for noobs like moi but a quick google search will help.
---
Segway is selling the Surron under their name. There are many variations of the same bike, design and upgrade components. BUT, it is a kids bike size and it is not available larger.

Build your own starting with an old DH racing bike of a proper size. It will make a much better ride and you can build the power and speed that you want.
Make it fool-proof, and I will make a better fool.
---