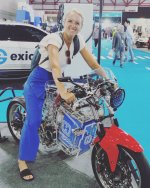 Hi Guys, i am a new member, greetings for all members here. I am living in Jakarta, Indonesia. I want to share my first build. I call it HME EV-1. This design is to prove "how to" is deeper than "what is"
Thank you for all commens and critics
I designed it using 3D modelling software, and inspired by Kawasaki Ninja 250 2008-2012. The frame is made from acrylic 18mm thickness.
Top speed: 140 km/h
Acceleration 1-100km/h: Not test yet.
Specification
Controller: VOTOL EM-150
Battery: LiFePO4 50Ah 10C
Motor: QSMotor 138 70H 3000Watts
Wheelbase: 1400-1450mm
Rims: Used Ninja 250 2008's
Front suspension: Used Ninja 250 2008's
Rear Suspension: Adjustable 520 O-Ring
Front discbrake: 320mm floating
Front caliper: Brembo 4P
Rear discbrake: Used Ninja 250 2008's
Rear caliper: RCB 2P
Chain: RK 520 O-Ring
Front gear: 12T
Rear gear: 55T
Front tyre: Pirelli Diablo Rosso Corsa II 110/70 - 17
Rear tyre: Pirelli Diablo Sport 140/70 - 17
Run test videos:
Link 1
Link 2
Link 3
Review videos:
1.
2.
3.
Here some pictures of the process: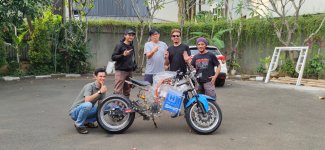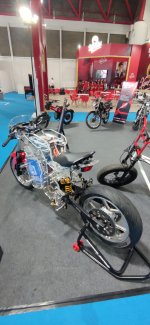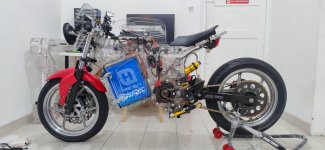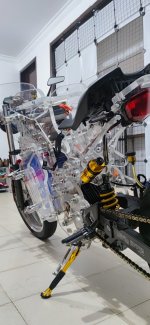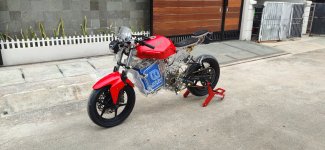 Last edited: