I think I'm just getting old. I can picture myself in a few years, yelling at kids to get off of my lawn. Luckily I retired recently, so I should be able to unwind more, but things like grocery checkers in long conversations with customers, while their checkout hands sit idle, still irritate me, even though I have plenty of time. I still put on what my girls used to call dad's grocery store face. A sort of emotionless stare, sort of neutral, and just short of looking irritated, while the checkers yakked away. It's gonna take a while.
But on burnouts. A lot of the ebike related YouTube videos seem to have to have a burnout at some point. Guy lifting up on the back of the bike while twisting the throttle, either on pavement or gravel. I'm trying to figure out the point. (
Like this one
) I could practically do the same with a pedal bike. OK, the burnout stuff was pretty cool when I was younger. For drag racing, there is a purpose, to get the tires sticky. Has a purpose and looks impressive. Practically every superbike or GP bike race I ever went to had a burnout competition during one of the practice days. Not the race bikes, but street bikes owned by spectators. That was cool too, but I learned to stay about 75 yards away or otherwise you'd be engulfed in a thick cloud of acrid burning tire rubber smoke. The winner always went all the way until the tire burst (I always wondered how they got home afterwards, but one year I saw the winner bringing his bike to one of tents that sold tires to get a new rear
). Also impressive and entertaining. Virtually all NASCAR races have the winner doing a big burnout in front of the crowd. Fun to watch the celebratory burnouts.
What is it about the ebike burnouts that's irritating me? I can't figure it out. The irritation has been below the surface, but today I watched a YouTube video of someone with an electric scooter doing one, LOL. Then I pictured in my mind, some dude pulling up to a stop light in his car, and a couple of his buddies getting out and lifting up on the back bumper so he could do a burnout. Cool? Impressive? I guess it would be entertaining. Like I said, I think I'm just getting old.
On the other hand, I saw this lady on her 3 wheeled e-wheelchair this afternoon. It was impressively fast. Now if SHE did a burnout, that would be cool and entertaining, LOL.
Anyway, that's my rant. It would be interesting to see if others feel either way about ebike burnouts, to see if there may be an age correlation; or maybe I'm the only one
.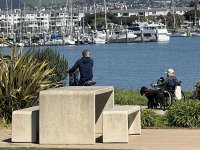 Last edited: