Joined

Jan 14, 2022
Messages

15
Hi all.
I should probably warn you that i'm fairly anxious right now. Im very aware of how dangerous these batteries can be and i'm desperately trying to find solution(s) to this problem. So a bit of patience and understanding will be hugely appreciated:
So for the last 2 years, ive owned
two
identical 48v, 17.5ah ebike hailong style batteries with little to no problems.
However, a month or so ago, while charging one of them (on their 4a charger) i left a rather slim carrier bag on top of the battery and it steadily overheated and slightly melted the casing. Visually it seemed quite minor and i then decided to just be more careful in the future, and strictly monitor them as they charge.
fast forward a few more months (the "melted" battery still operating just fine with regular use) I decided to take apart the hailong battery that had melted to inspect it (I'm reasonably technical, I build PC's and often solder things) so approached with caution as i've never taken apart an ebike battery before.
Anyway, after disassembly, and peeling back the blue heatshrink wrap, to my surprise i saw a rather toasted charge mosfet on the BMS. Even more surprisingly was the lack of any heatsink which, i presume was removed so it would fit in the casing (it's extremely tight) what maybe is why it overheated??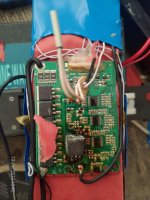 I dont feel comfortable leaving this thing on the pack now, and have been desperately trying to source replacements for both batteries (I fear the same outcome for the other one as they are identical!)
As i stated though, i've not done this before and i want to approach this as carefully and safely as possible. So what i'm hoping for is:
1.) To immediately remove the BMS's, in the safest way possible (Do i remove the balance connector first? or B-? what is the process?) if anyone can offer me any guidance on this it would be
HUGELY
appreciated!!
2.) source replacement BMS's as, overall, i do think the packs are built well but just heavily let down by the BMS's in them. They are all branded samsung cells, with neatly organized and tidied cables. spot welds and good soldering. however i'd rather be corrected if i'm wrong by those more experienced.....
I will post below a sheet of infomation i had on purchase with the batteries, as it may prove useful:
1. Lithium Battery pack with Samsung 35E cells 
2. Built-in BMS board 
3. US/EU/AU Charger (54.6V 2.0A) 
Battery Model 48V 17.5AH 
Nominal Capacity (AH) 13 
Nominal Voltage (V) 48 
Source Resistance (m?) 40 
Cell Combination 5-parallels 
13-series 
Cell Quantity (parallel*series) 65 
Discharge Cutoff Voltage (V) 41 
Charge Cutoff Voltage (V) 54.6 
Rated Discharge Current (A) 15 
Instantaneous Maximum Discharge Current (A) 40 
Maximum Continuous Discharge Current (A) 20 
Maximum Continuous Charge Current (A) 5 
Charge Mode CC-CV 
Standard Charge Current (A) 2 
Charge Time under Standard Charge Current 6 hours 
Fast Charge Current (A) 5 
Charge Time under Fast Charge Current 2.5 hours 
Charge Temperature Range -20-55°C 
Battery Net Weight 3kgs 
Battery Gross Weight(with all parts and package) 4.5kgs 
Again many thanks for any help and assistance with this, it's very much appreciated.