Joined

Apr 5, 2021
Messages

228
Hello ES community,
I have lurked this site here and there, but really got hooked reading APL's DIY axial flux bike motor build, and it inspired me to make my own post.
https://endless-sphere.com/forums/viewtopic.php?f=30&t=97860
It's a hell of a thread and I learned a lot and about motors and the community while reading through it all. It's clear that there are people out there in this world with a similar passion to mine, and luckily it sounds like you guys are all way smarter than I. So I welcome the discussion and ideas. While I proceed down a similar journey to APL's
Let me start with some background. I am a software engineer, with background in computer technology. Physics and math were always an interest of mine, but I was not proficient in either. I find that I learn best by doing and getting my hands dirty. I also am fascinated by magnets and their potential application throughout advanced technologies. Another interest of mine is renewable energy, which is where the fascination with the motors piqued.
I love the idea of combining renewable technologies, and in a northern US climate, solar is only so viable. have read a bunch of articles and papers on turbines, and the axial flux diy-er community. Which is what led me to try to make a light weight generator that could be cheaply manufactured, and the neat thing about these generators, is that they are motors too! Therefore I decided a side project of mine would to to electrify my Honda PCX 125.
Now that seems like a lofty goal. It's a 8.5KW ICE engine. Obviously it wouldn't need that kind of power if it was fully electric, and I will need to start smaller, but I felt that it was attainable with enough effort. Especially if a hub motor was a reality, and I could put one on each wheel.
I have been working at this project for a bit over a year, with slow-ish progress with life getting in the way through out. When I had started, I was living in an apartment with very little space, and I didn't have any real tools. I had comprised a very rudimentary rig using K'nex, superglue, and some time. After a while I felt like I had a decent grasp on how this whole induction thing worked, so I bought a 3d printer and started learning a 3d modeling. My thought was that it was the most versatile tool and great for rapid prototyping. I made a few coil cores and toroidal stators, but it wasn't long and my wife didn't like all the room I was taking up soooo, I bought a house.
I would like to dump some photos with out making this initial post too long, but I have so much I would like to talk about from litz wire winding machine that I created to the benefits of FOC type ESCs and how they may work with a coreless toroidal form factor.
Anyway, look forward to more posts!
My YouTube Channel
https://www.youtube.com/channel/UCQk0CkSexTb7GQvpGxj4kxw
the Genesis a CD with a bunch of magnets superglued to it. Super safe!
Made it a bit nicer with some aluminum sheets and amore coils. Also a 3d printed rotor that a buddy of mine made before I had my printer.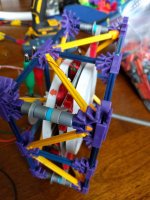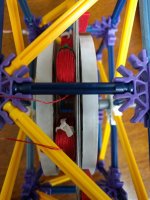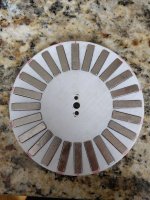 That's when it got a bit more real: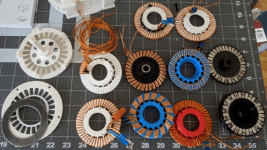 Until I felt good about it: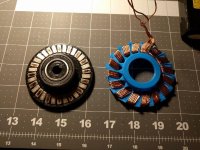 But that was really just a heater. So I tried again. this one spun! I was on to something.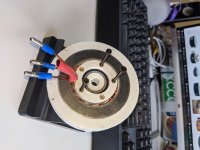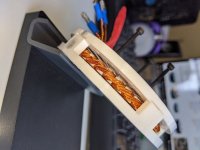 so I took my learnings and made a bigger "better" one.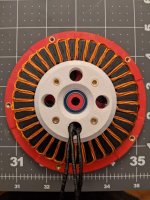 And then it blew up. Wish I recorded that it was pretty wild. I never found some of the chunks of the rotor. They seem to have disintegrated. this I believe was due to only one rotor half being on. (for a test), but what I didn't think about is that the KV was at least double that of a dual rotor, also the two halves helped support each other, but with one on it is much more susceptible to vibration. it was a bad idea, lets just leave it at that.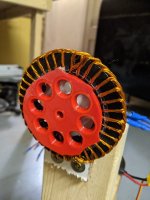 I then made a nicer version of that same one that I don't seem to have photos of, but I have a video of it here (details in description of video):
[youtube]I91ciNn_HcY[/youtube]
And since that one worked so nicely. I decided to give it more turns and see if I could drop the KV.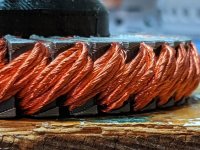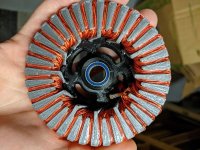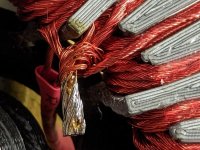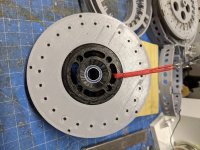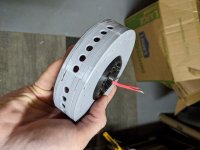 To be fair, that last photo shows layer issues with the print. I was experiencing some odd material issues with the printer. It took a bit to get to the bottom of it, and then I broke my stator due to tolerances changing and that's where were at now. Still have not had the chance to run the newest version at high RPM yet. Also, I have made modifications to the stator/hub so that it will no longer be two pieces epoxied together, but something that can be disassembled. Also I beefed up the supports so that hopefully they don't break as easy, but in the end it's only plastic, so it will only take so much abuse.
I would love to print these out of metal in the future, but I need to prove the design first. Also, there may be an issue with swapping an air core for a ferrous core and expecting only improvements.
I welcome your comments and suggestions. I will post more here soon going into more detail on my manufacturing process. Hope you enjoy the pics!