Joined

Nov 23, 2022
Messages

6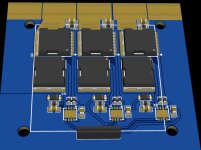 Hello
I've been a silent reader here on-and off for a few years - and have been working on my first ESC project now.
I'm an absolute beginner in regards to power electronics (unless you include blowing shit up with a capacitor bank
) - but i've tried to avoid the common mistakes, design a PCB that has low stray inductances, massively overspec everything and apply as much of what i've read here in topics such as this one:
https://endless-sphere.com/forums/viewtopic.php?f=30&t=55641
The design is a modular FOC controller based on the TMC4671 - it's usage is to replace an always blowing up Odrive 3.6 in a "robot" (Max 1m/s, 800kg, 2WD and 2 castor wheels. Should be able to climb some pretty steep hills - while driving with subcentimeter accuracy).
I'd like to ask for some good old roasting of my design, to minimise the needed iterations, as this project is (of course) quite time critical.
The finished product will consist of 1 Logic PCB (TMC4671), plus 1-n power stages arranged in a stack.
Each power stage will be fitted with a few (probably 2-3) capacitor PCBs to provide ultra low ESR decoupling.
I have a 3d-rendering showing how this fits together.
I tried keeping the high current traces (including gates) as short as possible, and the loop areas as small as possible. The capacitor PCBs will add up to 900uF of ceramic decoupling (300 per PCB) of low ESR low stray inductance decoupling (using busbars).
Voltage:
Most of the parts are specced for 100V+, effectively I'm going to use 12s LiFePo4 (43V) for now.
Current:
The MOSFETs have absolute maximum ratings of 380A continuous and 1200A pulse. With 2 parallel power stages I want to effectively use 100A continuous, 200A short-time (<1 min) motor current. I expect the battery current to stay below 25/50A as the motor will turn quite slow most of the time.
For current measurement I'll use 2 L01Z600S05 from Tamura, which will be connected via pin headers.
I attached the most important datasheets + the schematic of the TMC4671-Eval where I stole part of the design.
Thanks for helping me find my mistakes / giving tips for improvement!