Joined

Jun 3, 2010
Messages

1,296
I did a thread on mosfet testing back in 2010 which showed a simple method for tested mosfets using 12v battery and lightglobe, its quite reliable way to test them.
( the old thread: https://endless-sphere.com/forums/viewtopic.php?t=19585 )
anyhoo added some additional info for using led to test and different wiring layout for N and P chanel mosfets
The basic idea is you use your hand just touch it on the pos and neg battery terminals and the light goes on/off if the mosfet is working correctly.
Using 12v battery and 12v lightglobe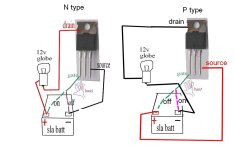 Using led and 12v battery ( probably 9v battery will work but haven't tested as yet shall do shortly)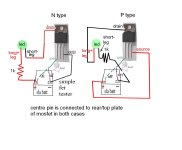 Also found a video from 2017 of someone who does same method, very very simple to build this tester.
https://www.youtube.com/watch?v=p-PouEtYbns
woth reading the comments on this video also if going to use this method, some good pointers.