Joined

Jan 8, 2023
Messages

24
Hey guys, I'd like to hear your experiences regarding frame durability.
Currently I have this setup: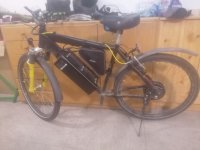 Noname 7005 alu frame. I use salvaged e-scooter parts, low-cost but ultimately unsuitable for my goals. Complete luck on the great battery-to-frame mounting, it is durable and unobtrusive.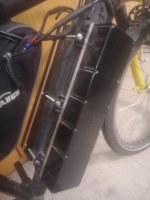 The batteries are in parallel, together they got 36V and 31,8Ah according to the label. Never tested the capacity, but I'm very happy with them. I got a flat-ground no-pedal range of a little over 40km (25 miles).
I run a cheap generic 36v 500w controller. It does the job fine.
The motor is the issue. It hasn't got any label and I wasn't able to research any characteristics. Judging from size it should have 350 watts. I took the e-scooter wheel, cut off the tire and drilled and laced it as a hub. Axle spacing for the 8mm (0.3") steel single open-end torque plate was possible without problems.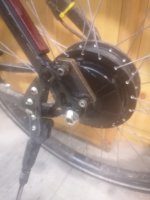 So yeah, I knew going from 10" to 26" wheel diameter will make the motor have worse torque. But by how much? Also, it was using what I had or having no e-bike. Acceleration from standstill to top speed takes about half a minute, top speed is around 32km/h (20mph). Total cost was under 170 euro, I have a lot of bicycle parts laying around.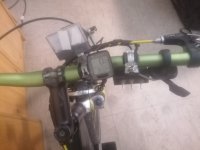 Controls are rudimentary. Water pipe clamps are very useful for mounting
I'm happy with what I built with next-to-nothing but the low-end torque is so horrible that I have to ride very foresighted in traffic because I know I have a hard time reacting to unforeseen situations. Build-wise, I feel that a 30 year old Marzocchi Bomber Z2 is not strong enough to take the bigger repeated braking loads. As a mechanic by trade, I know it is.
Still, this thing is not safe and capable enough. My requirements are better torque, so I will be upgrading to a 1kw motor. A top speed of 20-25mph (30-40km/h) is enough for me and while the current range is fine, the motor used doesn't allow for any type of sprocket attachment. A proper e-bike hub motor would make pedalling possible. Also I dislike the hardtail frame because the motor bearings get a lot of shock loads from bad roads. They have developed play in a year of riding. Not much but noticable.
Now the goal is to build a durable bike which can handle the higher loads reliably - preferably forever. I have this frame: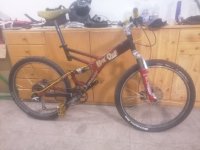 I like it very much and would be immensely sad if it would break. It's a '91 Giant Box One which they labeled as "Freeride Series". Enough of you guys are mountain bikers as well, we all know freeride in '91 wasn't what freeride is today or was during the 2010s. I don't want to ruin this old frame by over-stressing it. A lot of them broke on the seatstay joint, not this one.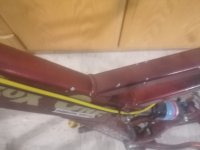 Thus I conclude the welds to be of good quality.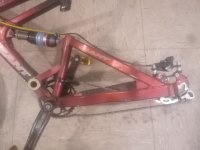 What I'm worried about are three things:
- Are the dropouts structurally strong enough to cope with the heavy motor long-term? I plan on double clamping torque plates made from the same 8mm/0.3" steel. However, the unusual shape makes a prediction hard for me as I've not enough EV build experience.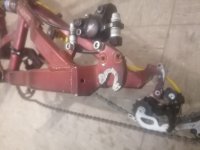 - Would the swingarm pivot hold up well? It's a simple bushing made of some kind of plastic. I can refabricate the plastic sleeve when it wears, but is the construction itself beefy enough?
Also, is the damper mounting of suitable dimensions? It's M6 bolts, that would translate to a little less in diameter than 1/4" bolts.
And finally, is the headtube beefy enough to withstand the heavy Marzocchi DJ3 I will be using plus the higher braking stresses?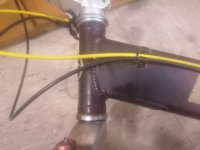 I read ES for a long time and saw that some of you guys build e-bikes from worse quality frames. But do they hold up long-term? This is 30-years-old 6061 T6 alu and it is precious to me. It must not break. I'd love to hear your opinions.
Also, look at that fit. It
wants
to happen