Hi,
I've been reading all throughout threads like
this one
and
this one
but could not really find any concrete ways to hack a
'hiccup'
SMPS so as to make it behave like a
'current limited'
SMPS (despite the comprehensive work and explanations from #
heathyoung
, #
fechter
and #
NeilP
)
I am currently trying to hack a
Meishile SMPS S-200-36
to make it charge a
10S4P Li-Ion battery
pack (880W).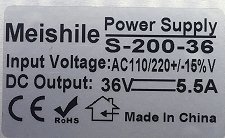 I first tweaked the
RV1
pot to tune Vout up to 42V (10S4P/Li-Ion) : quite easy, no need to adjust the TL431 bias resistors to offset the adjustment, RV1 was sufficient to obtain 42V.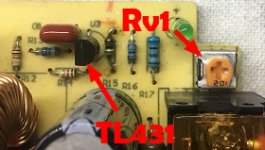 Then I tried to tweak
R1
(Isense resistor) to make the SMPS stop hiccuping once it's connected to the battery pack (the initial current demand is surely in excess of 5.5A, resulting in the PWM controler to hiccup for protection).
From the initial 0.1R value, I tried 0.2R, 0.5R but also 0.05R down to 0.02R ... to no avail, still hiccuping.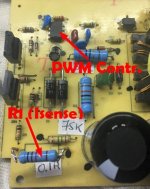 Meanwhile, I also reverse-engineered the PWM controller and DC output stages of the SMPS to make everything more clear in my mind ...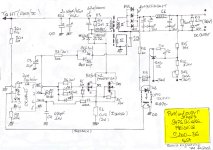 ---
But now, I am stranded ... I don't know what to do or test more so as to master the hiccuping.
I am pretty sure the initial rush current demand from the Li-Ion BMS is not that high (certainly >5.5A, though) and is definitely
transient
I also think that the SMPS mosfets could
temporarily
cope with it ... well, that's my guess
Has someone any clue ?