Joined

Jan 24, 2016
Messages

542
Location
"Standard Power Rate" test (1C continuous discharge)
note: the 1C discharge test is performed at ca

90% DoD

(4.15V-3.00V)
Test eqiupment:
- 2pcs ZKETECH EBC-X0510
- BF-2A four-wire cell fixture (10A version with Nickel plated contacts)
- tested in room with relatively stable temperature 23 ±2 °C
Remarks and comments:
- sister thread to the High Power cylindrical cell tests with the same settings Cycle life tests of High Power density cylindrical cells
- the reduction of tested DoD to about 90% (4.15V-3.00V) is based upon requests from the ES community
- from a purely technical point of view, even this small reduction of DoD significantly reduces the differences between high-quality and lower-quality cells.
- it means in practice that almost all cells shows results very similar to each other at 70% DoD or lower (see docware results), but you miss the information that some of high-quality cells perform very well even at 100% DoD (as was shown in 5C @ 100% DoD "torture" test of modern HP cells)
- you will certainly notice the "wawes" in the capacity test at 90% DoD, these are caused by the insertion of a nominal capacity test at 100% DoD. This behaviour is tied with the internal design of HE cells as the HP cells does not shows this effect significantly.
- tester accuracy is 0.2 % ±0.01 A. The stability is relatively good.
- do not much look at the absolute values, particularly at low currents in nominal capacity tests, trends are here important results.
- each 50th cycle is inserted datasheet nominal capacity test with 10s DCIR test (see dots in figure)
- minimal charging CV phase cut-off current is set to 100 mA due to the ZKETECH testers limitation
____
"Table" with values measured on precision battery tester (not ZKETECH). Those test were performed in temperature chamber under 25°C, TC is using forced air flow to maintan consistent temp. This 25°C air flow acts as cooling force on the cell surface, so the measured temperatures under high load will be affected by this.
*Temperature is measured by the K-type thermocoupler, attached to the cell body using Kapton tape. Some cells are sold as Naked (without tube) and these shows significantly higher temperatures than cells with tube due to the effect of the tube thermal insulation.
added LG INR18650-M36 to the chart (X0510 tester, cell supplier: NKON)
added Lishen LR2170SD to the chart (X0510 tester, cell supplier: NKON)
added BAK N21700CG-50 to the chart (X0510 tester, cell supplier: NKON)
added LG INR21700-M50LT to the chart (X0510 tester, cell supplier: NKON)
added BAK N18650CP-35 to the chart (X0510 tester, cell supplier: NKON)
added Panasonic NCR18650T1 to the chart (A20 tester, cell supplier: Vapcell, *Naked)
added Samsung INR21700-50E2 to the chart (X0510 tester, cell supplier: NKON)
removed Samsung INR21700-50S from the chart (X0510 tester, cell supplier: NKON)
added Lishen LR1865HB to the chart (X0510 tester, cell supplier: NKON)
added EVE INR18650-33V to the chart (X0510 tester, cell supplier: NKON)
added LG INR21700-
M58*
to the chart (X0510 tester, cell supplier: NKON, *Naked)
*NKON refers the cell as an M58T model, but on the body is marking M58
added Samsung INR21700-50G to the chart (X0510 tester, cell supplier: NKON, *Naked)
added Samsung INR21700-48X(1) to the chart (X0510 tester, cell supplier: NKON)
added BAK N21700CD-53 to the chart (X0510 tester, cell supplier: Vapcell)
All in One:
21700 size
18650 size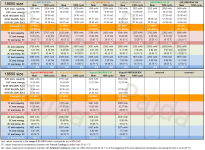 Last edited: