Joined

Aug 11, 2021
Messages

182
Location
I have an extra case of 100 BAK N18650CP cells that I am trying to utilize to rebuild a battery for a Juiced bike. I'm struggling with spot welding these cells because they, apparently, have aluminum cans instead of the more common nickle-plated-steel cans used by most manufacturers. I've spot-welded many, many batteries from cylindrical cells in the past, so these issues are not so much the struggles of a first-time builder. I'm looking to see if others have found any tricks to working with these cells because I'm about to recycle or sell the whole case.
Using a KWeld, I find that 25-30J is normally appropriate for getting a good weld to most battery cans with 0.15 nickel strip. This power setting does great to afix nickel strip to the BAK cell's positive terminal, which I assume is steel. However, I'm struggling with welds to the negative terminal. At power settings between 25-50J, the nickel strip does not create a good weld. When "pull tested", the strip merely pulls off, revealing indents in the case where a bond did not occur. At 60J, I can get a satisfactory weld, with nickel tearing. Unfortunately, 60J is also enough power to blow a hole right through the thin cell can about 25% of the time.
60J is quite a bit of power for 0.15 strip, and it seems to me that getting enough heat into the weld to create a proper bond rides right on the edge of puncturing the can. My difficulty with these cells is not helped by the fact that the cell has a large safety vent etched into the negative terminal. Welding on top of that vent almost guarantees a punctured cell, and there is little material around the edge of the can that's suitable for welding. And even on that thin suitable diameter of the can, I've punctured cells.
Any advice is welcome regarding spot welding these cells.
Cells:
BAK 18650 3050mAh 6.1A Battery (N18650CK)
This listing details that the case is made of aluminum:
Cell Li-Ion 3000mAh 3.6V BAK N18650CK
BELOW: my first test cell showing welds between 25-40J, where mostly none of the welds stuck, and I popped the cell by welding on top of the vent.
BELOW: My second test cell, showing 8 welds at power levels between 40-60J, about half of the welds stuck properly. No punctured case.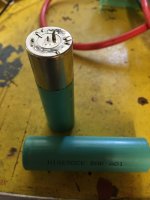 BELOW: I began assembling a block of cells at 60J, and punctured a cell on the 4th weld (circled in orange). Not much to see this morning, but I certainly punctured through because that cell spat electrolyte last night. It's toast. Look past all the sharpie.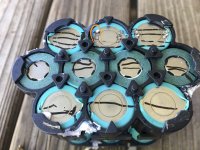 BELOW: Review/Rant: These tube-style batteries are downright awful to rebuild in the first place. The little tabs sticking out are not only for balance connections, they also complete the series connections with the groups above. The OEM aligned and soldered all those little connections together, along with balance wires. There are between 2 and 4 of these soldered connections on each face of each block of cells, or 24 soldered tabs on the whole 13s battery - half of which carry series current. It's tedious to put together and, IMO, a poor showing for electrical work. The bike is rated at 500W / 48V / 10A and the OEM nickel strip is 4mm of 0.15mm strip. I've worked on other Juiced batteries that were plainly laid out and easily serviced. This style of battery is a disaster to work on, even without my cell welding issues.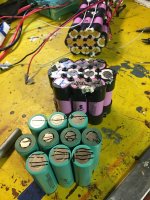 Thanks, y'all!