Joined

Feb 12, 2015
Messages

199

Hello bafang fans.
Brand new speed unlocker, configuration tool and also simple firmware flash -
K1 Flash
Would you like to set or tune motor controller parameters? K1 Flash is compatible with all Bafang CAN bus motors (5 pin connector with "house" shape). Simply edit AutoSet.txt file on included SD card with your favourite settings.
Also can download motor firmware for M500, M510, M600 and M620 motors and run Calibration.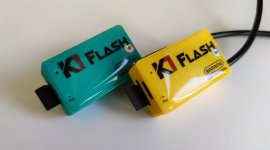 Simple as 1, 2 ,3 ...
1. Insert included SD card (with set of firmwares - cca 50 firmwares)
2. Power up K1 Flash (over USB-C cable from your mobile, power bank, charger ...)
3. Connect to your CAN motor - steady green LED light means all set and you can unplug device
In a minute your motor is flashed and parameters set according text file (editable) on SD card.

More info, pictures, video and ordering info at this google forms page: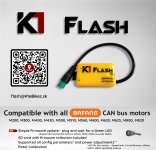 A quick video
Colour LED will tell you what state you are in:
Blinking Blue

LED

- Auto Flash procedure started - Plug in motor
Steady Blue

LED

- Insert SD card
Steady Red

LED

- Firmware flash ready. If does not start automatically - reconnect motor. (Older motors M500, M600 can flash only during boot up)
Red

b

l

i

n

k

i

n

g

L

E

D

- Firmware downloading to motor
Green

LED

- Completed, all OK. You can unplug motor
Blinking Green LED - Setup motor parameters - Connect motor
You get a collection of bin files on SD card. Or simply add your new firmware file into SD/AutoFlash directory and device will load it when compatible with your motor.
Tested on M500, M600 rev.A and B, M510 FC1.0 and FC2.0 and M620 so far. Should be working also with M300 and M420 as here are same bin file types. In the future also support for M630, M560 with simple firmware update.
Speed unlock, circumference supported by all Bafang CAN motors, including CAN hub motors.
If you want only speed unlock and set power parameters (supported by M510, M820 and M560) get a
K1 Flash Light
- starting at 110 Eur. If you interested please contact me at
Flash@K1eBikes.sk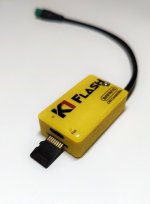 Last edited: