Joined

Feb 12, 2015
Messages

199
Hello Bafang ebikers.
Introducing CanMon 2 - device for monitoring motor parameters, speed unlocking for all Bafang CAN motors (green "house" shape connector with 5 pins) , including hub motors with original Bafang CAN controllers.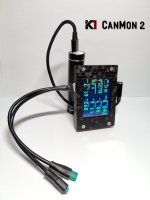 Possible to:
monitor Can bus parameters (speed, current, voltage, temperature, energy consumption)
set speed limit, circumference, wheel size
adjust power map and RPMs, Startup angle and Acceleration on M510 motors
bonus screen with analog guage (if somebody want to put it on handlebars for testing purpose - device is not waterproof and not meant to have permanently mounted on an ebike)
You can power device from any USB port, USB charger, from a Power-bank, mobile phone, or plug into USB port into your original Bafang display.
CanMon 2 with M510 Power Map Support - 180€
- Includes: CAN bus cable (you can specify length you want, default is 20 cm, ), USB-C cable (25 cm)
- Monitoring functions
- Speed limit unlock, Circumference, Wheel sized - support all CAN Bafang motors - M500 M600 M620 M625 M420 M300 M400, also new hub motors with original Bafang CAN controllers - G040
-Startup Angle, Acceleration, Power limit, Caddence limit, Speed limit unlock, Circumference, Wheel sized - supports only motor M510 yet (not the very first motor revision), I am expecting Bafang would soon put on market also other motors with power adjustment capability.
Shipping in EU - FREE
(international +5e)
Feel free to ask anything or place an order order at Canmon@K1eBikes.sk
Payment over PayPal (account: dado.komar@gmail.com - please select "as a friend" or add 6€ if you want pay with PayPal buyer protection - 3.5% fee ), bank transfer or also we can make a deal over crypto.
One small disadvantage - display is not as good quality as I was expected - so not a good viewing angle from left and right. I hope display company will produce also same module with better LCD display. Touch display works also in gloves.
6 pcs. sold, 4 pcs. available now.
For more info and video, please visit my page with projects -
K1 Patreon
This version is not waterproof, so it is not meant to be mounted permanently on an ebike. Device is for testing purpose only. K1 eBikes company and representative (Ing. Drahomir Komar) are not responsible for any damage caused on any properties or health.