Joined

Sep 11, 2019
Messages

74
Bear with me.. this is a long introductory post to a new build project, explaining some of my rational for a new project, and explaining the direction i am going in, in terms of design/setup choices and options to be explored. This will be a Project log, in Real Time. How long that project timeline is, is still up in the air. I have an even more involved Restoration project ahead, in the living room Project queue for this winter that will get my primary attention.
Never the less, my mind is already digesting the possibilities of the next Project.
After 4+ months of beating up the trails and roads on my first Project - a Terra Trike Tour 2 conversion - while it's outcome as a project was more than satisfactory, it's got limitations to the basic design. It's primarily a smooth surface, maintained pathway Recumbent Trike with a fundamental limitation of lack of suspension to handle anything off-road with confidence. It does Ok, but the way that i am going, i have reached it's limitations to the point that i may well hurt myself in a spectacular manner. I may retain it for on-road, downhill use only, which it excels at. Gravity-slopes are a thing here.
Initially, i had thoughts of quick and dirty pulling out the die grinder and doing major surgery to the existing Terra Trike frame, to graft on a suspension system. I also considered just utilizing the Terra Trike Tour 2 for the parts, for a new build - which would save money - but either option, that would still be a compromise build. It's too clean, and as of yet unbroken, to be disassembled or Cannibalized. Too much of it, wouldn't be used, or reusable.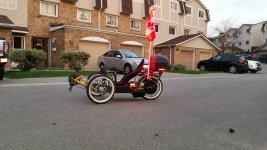 I have spent MANY hours so far, poring through Image galleries of various Factory, and Homebuilt design Tadpoles in recent months, noting design and fabrication techniques. As such, any single design that i've looked at, still isn't a 100% match to personal needs or Goals.
As such, my own design process will be fluid and changing, and a bit unconventional. I am choosing to pick up parts that i wish to incorporate into my own setup, and designing around those, once in hand.
I have my own existing Trike for Ergonomic Reference points. I've also picked up a few KMX trike design plans, for very general pointers. I am drawing inspiration from wide and varied sources, like Stein trikes, Veloks Mk3, Adaptive Trike DIY setups, etc.
My Project Goals (to be added to!):
Front and rear Suspension design. Required to be relatively 'bomb proof' in setup. Mechanical failure away from home is not an option, for that build aspect.

Centre motor drive setup - 3kw Class. ~200km Battery Range. Batteries integrated into build.
As indicated above, i'm building around Components being obtained - my first being the front wheelset. These will be good for 2.15" tires, maximal. If i choose to run larger, i'll get wider rims, and re-spoke... but it's a start.