Joined

Jan 29, 2016
Messages

835
Location
Hello everyone,
A little topic to present my new e-motorbike.
Specs:
-Motor: QS 3000W V3 High speed version
-Controller: Currently tested: Yuyang King 100 Amps, Sabvoton 150 Amps and Sabvoton 200Amps (battery continuous draw, not phase amps)
To be tested soon: Kelly 12401, 120V (200Amps continuous)
-Battery: SLA 72V 35Ah
Performance:
-top speed: 115kmh
-Acceleration from 0-100: not tested yet, but probably around 8 seconds
-Range: about 40-50 km while riding agressively
I've purchased it a week ago, already changed the original yuyang king controller. Currently, the 150A sabvoton is installed in the machine and gives very decent performance and I'll test the Kelly very soon.
It's a pretty decent machine, the battery could be lighter of course since it is SLA, lithium being a bit too much expensive for me at this time. So far I'm pretty satisfied with it.
In a near future, I'll probably swap the motor for a high torque version and go for at least 96V to compensate for speed loss.
Anyway, a few pics of the beast: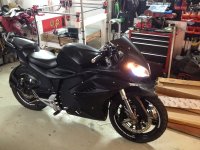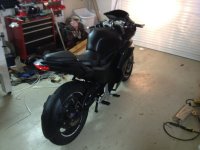 The whole machine is covered in 3D carbon film, which looks beatiful, and of course makes it faster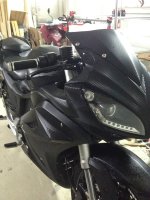 The original Yuyang King 100A controller... It was quite underpowered...
View attachment 3
The 150A Sabvoton, much better but still not great, because of the machine's heavy weight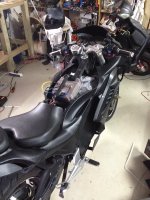 The 200A sabvoton, quite powerful, I think it now has similar or slightly better performance than the original gas engine
View attachment 1
Changing the fried front bearings: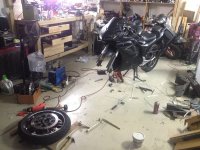 I think this machine has a lot of potential, the frame is pretty lightweight, it handles great, there is plenty of space for the battery, according to my taste it looks gorgeous and the suspension is quite comfortable, at least much more than my scooter's.
I just hope I'll be able to convince myself to invest on a big lithium battery, but I don't really get all the battery management system part, especially when it comes to very high power settings. I would love to build my own 120V lithium battery for this, using prismatic cells. Just no idea how to make it safe for now.