Joined

Aug 8, 2022
Messages

551
As I am getting closer and gathering pieces for my next e-moto build, I am considering the possibility of selling my first build, minus the motor and controller, which I would be reusing in the next build. Partly to fund the next build, partly because I don't actually need 2 motorcycles, partly because I made several little mistakes and I know I can do a better job the second time around. However, I would feel a little bad about just tossing/scrapping my first build, because it actually performs quite well, and I would prefer it to go to someone who could give it a second life.
So I want to post this ad as a soft investigation in whether someone would actually want this for their own build. Again, I would be keeping the hub motor and controller. Battery, I could go either way: I would be using a new battery in the next build, and I would be able to disassemble my current battery and repurpose it for solar storage, but if someone wanted it as it for their build, that would be okay, as long as the risks are understood when purchasing and using a non-professionally built battery.
Anyway, here's what it is: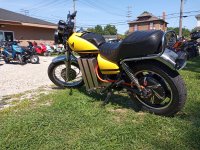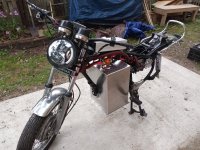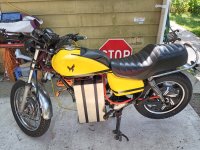 Thread here
Frame is a 1984 Honda CM450E. Some surface rust when I found it, nothing bad, and I treated it a bit to keep it from going worse. No cracks, bends or dents at all. Drum brake front, low quality aftermarket disc brake rear. Gas tank has a cutout section that fit the controller. Rear shocks are original and in great shape, front suspension could use some tune up but works just fine (it's a road-only commuter bike). I've since painted the tank black instead of yellow, and the battery case has some vinyl wrap on it now, which could come off if you don't like it. The seat is original, leather, in amazing condition actually, I was surprised when I got it. Swingarm would be ready to accept another hub motor, but I have seen the same swingarm available on Ebay for less than $50, and I even still have the original rear wheel, if you wanted to rebuild it with a middrive.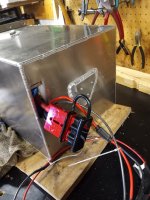 The battery case was made by a professional welder out of 1/8" aluminum, because it was a stressed member engine and needed something sturdy to replace it. I have ridden 3000 miles/5000 kilometers on it so far, and have checked often but have found no issues with the frame, battery mounts, or case itself. I wouldn't take it off-roading, but these old heavy steel frames are pretty beefy.
Electrically, I'd also include a 72v 400 amp MZJ contactor, a 12vdc converter, the headlight, tail light, handlebar controls, and DIY battery coulombmeter, as well as a neat analog ammeter that I fit into the old tachometer display. Wiring harness too, but personally, if you were doing your own build off of it, I'd start from scratch, because I did a pretty messy patchwork job, despite it being functional.
If anybody would be interested in the battery, it's 24s LiFePO4, 70-72ah, made from batteryhookup 32650 cells, last year, in 12p24s format. Spot welded .2mm nickel layer as well as a layer of tinned copper on top of that, 200 amp JKBMS. Weighs about 110 pounds. Used for one year, has worked great, probably still within 95% of its lifespan. It is LFP after all, good for 2000+ cycles, and I've always charged it slowly and gently. I get 40- 50m miles range if I were to take it all the way to the bottom of its range, which I never actually do, I usually have always topped it off when it gets between 60-40%.
This vehicle is registered and titled as a motorcycle in the state of Michigan, as a 1984 gas motorcycle. Debate the legality of my choice elsewhere, but there are several avenues that could be pursued to get it fully registered as a homemade vehicle, if you want to go that route. In any case, I have the title in hand and can sign it over to anyone who wants to purchase it.
So that's the overview, and I'm happy to answer any questions. Reiterating one more time: I would not be selling the hub motor or controller, and I really just want to put this out there to see if anyone would be interested in buying the project at all; if not, that's okay, just seeing if the community is interested.
Located in southwest Michigan, US. Willing to perhaps drive and meet for a dropoff, depending on how far. I don't have a specific price in mind. This is easily worth a $2000-4000 in parts alone, but it's more important for me to see this go to a "good home," I would feel bad to just take it apart and move on to a new bike after only riding it for a year, with nothing inherently wrong with it.