Hi all,
I decided to go with a Kona Unit as the donor bike for my BBSHD build. While I couldn't find any other cases of someone mounting a mid drive on this bike, it checked a lot of boxes for me (standard BB, steel, rack mounts, 27.5+) and I decided to take a chance.
I picked up a demo 2018 set up as singlespeed, here is a stock photo: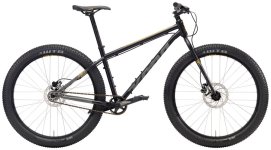 This bike can be converted to geared by replacing the dropouts, they run $30 each or so from Kona. I ordered a couple and had them within a week. For the rest of the drivetrain I opted to go with 8 speed as I didn't think I'd need a huge gear range with the BBSHD. I picked a steel Sunrace cassette (11-40t wide range), Sram X5 rear der, Sram X4 shifter, and a KMC X8.93 chain.
Around the same time I picked up the Unit, I also ordered a BBSHD kit from EM3EV. I went with a Jumbo Shark 17ah battery in large part due to the more robust mounting mechanism as compared with an original Shark. From the time I ordered the kit (end of April) to when it showed up at my door was about 3 1/2 weeks. I will say that the shipping info can be a little confusing, you end up with a tracking number that doesn't function for a good period of time. However every time I had a question, Paul and Moon replied promptly and explained what was going on. When I got the kit everything was very well packed, all the items I ordered were included, and I am happy with the decision to go with EM3EV. That being said I also ordered some stuff from Luna, specifically a bunch of spacers and their 42t Eclipse chainring. It arrived promptly and in good condition.
I spent a couple hours on Saturday pulling the crankset and BB off the Unit and started to mock up the BBSHD install. If anyone's interested the self extracting cranks and BB came off easy, the BB was torqued way to tight but nothing a couple whacks with a mallet didn't fix.
Once I had the BB clear, I slid the BBSHD in and the motor housing just cleared the chainstay. However, when I tried the Eclipse chainring there was not nearly enough clearance. So I fiddled around with different configurations and it seems like I have a few options. I'm hoping to get some feedback from you experienced builders on the best way to move forward.
Right now I have two chainring spacers on the Eclipse, from what I can tell probably a 2mm and a 1mm. There are also 8mm worth of spacers on the drive side of the BBSHD. This has provided with a decent chainline (probably won't be able to use low gear but that's ok), but I have barely enough threads to get the lock ring fitted. The jam nut is out of the question. There is also very little clearance (1-2mm) between the chainring and the chainstay.
Chainline: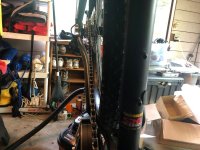 Chainstay/Chainring clearance: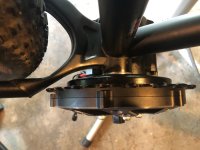 Lock ring, this isn't all the way tight but probably not more than 1/4-1/2 turn left.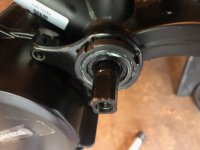 Does the support bracket need spacers now?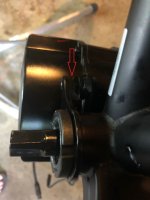 I think I could probably just bolt all of this together with a liberal application of blue loctite and move on to the rest of the build, but if anyone sees a fatal flaw here I'd appreciate your opinion. Right now it seems to me I'm compromising between chainline and Q factor (drive side is 30mm spacing or so, non drive is closer to 10).
So...
Can I push the chainring out using even more spacers? There is a cylindrical relief on the motor which the chainring fits on. If I space out the chainring so far it doesn't fit over the relief, is that a problem? Would I be better off to use something like a mighty mini? I don't think so as I think the Eclipse has 28mm or so of offset and the mini has none that I'm aware of. I still think this would impact my chainline another 20mm or so.
Is the lockring engaged enough to use loctite and ignore the jam nut?
Would I be better off using a chainring with a bit less offset like the Lekkie? That would buy me a lot more clearance but I feel like the chainline would be terrible.
Just shut up and ride the thing??? Thanks all, appreciate any input!