Joined

Aug 11, 2021
Messages

188
Location
I've learned so much about battery construction from seeing others' battery builds on ES and reading the resulting back-and-forth about what works and what needs worked on. I wanted to share my own handiwork so that other folks may learn from my experiences as well as any resulting commentary about how things could be done better next time.
Someone commissioned me to build a 72V 40AH battery for their homemade electric ride. The vehicle is running a 3KW rear wheel from an 80amp sinewave controller in a custom frame. The bike was being powered by a handful of e-scoot packs, wired in series and parallel, and this battery needs to fit space under the bench. The battery was built to sustain 80amps continuously, and 150amps in a burst (which is overkill for the machine, but this should favor less-stress on the pack and greater longevity.)
I started with 200 Samsung 40T cells and a few extras. (I've learned to always order a few extra cells! Helpful for testing spot welds before diving in, or for having in the event of mishaps.) I selected the 40T cells over P42As because of how they performed near end of life during Pajda's cycle life tests. (That thread is such a gift!) The rest of the components include: a 150A Daly bluetooth BMS
6AWG wire and matching lugs, 200A ANL fuse.
The pack was built into 4 modules of 5s 10P for ease of handling.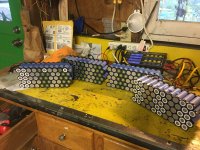 Cutting copper sheet to make the serial connections. I used 0.1mm copper sheet. The sheets, together, provided 80mm of copper in width, which I calculated was adequate for about 130amps with Matador's wonderful ampacity chart. What a gift. (10mm of 0.1 copper is good for 16 amps, X 8 = 128A.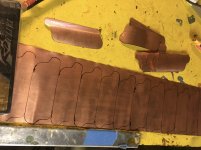 Building the modules. The cells that received only 1 copper strip were attached to a double strip on the back side. The nickle-sandwich strips were mostly 5mm x .1mm nickle plated steel. These also served as the parallel strips. It took 107J on my KWeld to get excellent welds with the nickel plated steel strip. Copper was cleaned with isopropyl alcohol on both sides to remove fingerprints and other residue.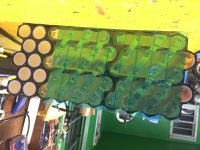 To jump between a pair of modules that were not in line, I used 12AWG stranded wire. I soldered onto the copper beforee spot welding the sheet in place. Doing "blind" spot welding, with cells entirely hidden under the sheet, was a real chore. This is why I used the "three strips" method for most of the build.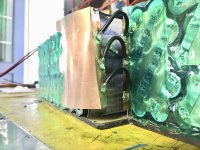 4 small lengths of 14AWG wire were used to make the final postitive and negative connections. These were crimped into the large 6awg wire with hefty butt connectors.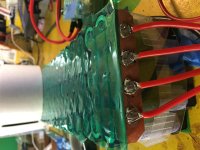 The pack coming together and BMS installation...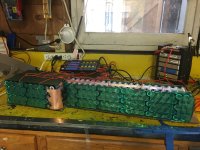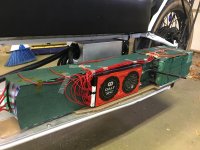 Ultimately, I wrapped the battery in fish paper, built an acrylic box around it for knock protection, and shrunk it all down. Sometimes it feels like a shame to hide all the work -- I wish I could find large-width clear shrink wrap. The project was installed on the customer's bike -- a beautiful creation of their own! Rumor has it, they've managed to ride with 6 people on the bench.
This was the first time I used a DALY smart BMS, and will add that I much prefer the user experience I've had on the Xiaoxiang app for the JBD BMS's that I typically employ.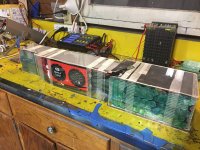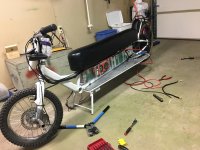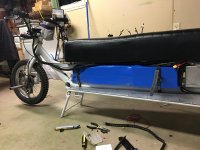 I'm open to constructive feedback so others can learn best practices and so my builds can improve going forward. The customer is happy with the battery, noting little voltage sag and great full-throttle performance even at low SOC. The biggest change I would have made was to use 8AWG wire, rather than 6WAG, for the main runs. I think it would have been fine at 100A capacity, and these large capacity cables can be inconvenient to use. It's my opinion that the whole thing was a notch overbuilt, electrically speaking -- but I hope that lends itself to a happy life for the battery.
Thank you, ES, for all I've learned on this site. It feels good to make a contribution.