Administrator
Staff member
Joined

Aug 17, 2009
Messages

38,295
First, a review in the first few posts about what this bike *WAS*, before I start on what it is now, and then what it is about to become.
This bike has been through a lot, as almost all of my experiments were done on it before I built CrazyBike2. Right now it's unpowered, just my pedal-only backup cargo bike and commuter, since one of the radiator-fan motor shafts snapped on the friction drive over a year (and a half?) ago.
It's an aluminum frame Columbia Comfort Bike, from 2005. I think the only original things on it are the frame, front fork, stem, bars, and brake arms. Maybe the BB bearings and axle, and the left crank and pedal. (The right crank is on CrazyBike2 because I needed that triple for it's gearing ratio). Oh, and the derailers and gripshifters.
The DayGlo is faded, but still there. Used to look like this when I got it:
View attachment 7
And slowly changed to this:
View attachment 6
(with no assist on it in this pic). That's my first trailer attached to it. Lawn chair, computer desk, and a couple of 24" bike rear triangles with 20" 44spoke wheels.
My safety gear to match: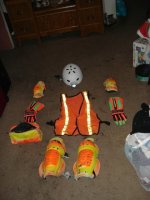 though the helmet has an orange stripe around it and orange circle on top now, and the headlight is a flashlight ziptied thru the top holes instead of front-mounted. I don't wear all of that stuff most of the time now, but during experiments I figured better safe than sorry. I used to wear it all the time, but after riding CrazyBike2, the semi-recumbent, I found I did not need anything but the helmet (and gloves when it's cold), since I basically never fall of of it or crash, unlike with any regular upright bike (because I have a lot of trouble staying balanced).
It changed now and then to look like this:
with a headlight made from a CCFL slide-scanner attachment,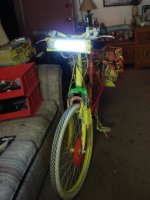 and another in back with red filter over the light,
to which I later added turn signals and marker lights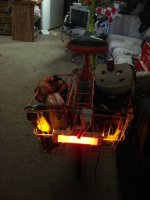 since so few people seem to know what hand signals are.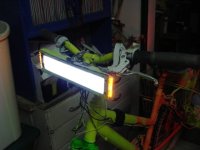 Should have done that YEARS ago but didn't think of it.