Joined

Apr 5, 2021
Messages

228
Hummina Shadeeba said:

without a dyno or load you can add to test torque i guess just go for max speed! the motor not having any iron makes it seem especially a high speed motor and where its power will be and then youd gear it down.

maybe before going full speed balance the rotor. Ive heard you could try a laser pointer fixed to the stator thats pointing at a wall and add or subtract material with the goal of getting the laser point stable as you remove vibrations. sounds fun. never done it.

eventually i guess a magnet will fly off like a missile though and surely dangerous, surely you know. peak power maybe could be way higher if you can fix the magnets better and then ..double the speed. I think you should add long kevlar strands wrapped around the outside of the magnets!
Yeah I will spend some time balancing things before I let it rip, and obviously Ill collect some data too. I had an early version blow up in my work shop. I only ever found about 30% of the rotor
TorontoBuilder said:

As I said I have contacted a few sources that supply low volumes typically for experimental uses. One company in the USA will sell to individuals without a corporate entity which is great. I expect a quote within the next few days, and I shall let you know. It may require a larger volume purchase than a couple of kilograms. In such a case I'd see if we could perhaps do a group buy.
Wow, all of that was awesome information. thanks for sharing. Depending on the price, I could probably swing a group purchase. Curious what you hear back.
First a few glamor shots.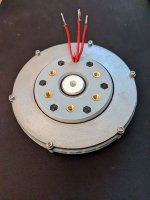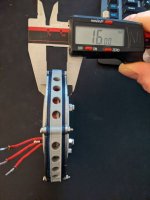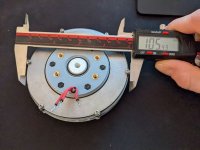 I made a new hub for the stator and a new spacer ring. The tolerances are really tight now. I am currently printing a mount for it so I can test it as a motor, but I was able to spin it with a drill while holding it by the machine screws. I believe I was able to calculate a Kv of ~181 (~337Hz @ 9.3V). This is slightly less than the lowest I measured for any of the other motors, and this one doesn't drag on anything, and is smaller in diameter and thickness, and is lighter than the last couple (408g with all the screws), and still making nice sine waves.
Overall this is a great improvement, very happy with the results. Looking forward to trying more/less turn stators and seeing how they compare.