Joined

Feb 22, 2013
Messages

27
Location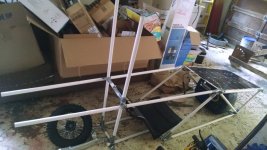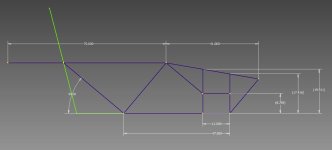 About the team:
Colin (aka Onidaren) - Energy Systems Engineer and programmer, built Ebike found here: http://endless-sphere.com/forums/viewtopic.php?f=6&t=70102
Sam - certified welder who also has talent as an auto mechanic.
Basil - Computer Science Engineer with two years experience racing mini baja cars.
Similar Vehicles:
Can-Am Spyder http://can-am.brp.com/spyder/
T Rex http://www.campagnamotors.com/
Arcimoto http://www.arcimoto.com/
Polaris Slingshot http://www.polaris.com/en-us/slingshot
Elio https://www.eliomotors.com/
NMG (Corben Sparrow) http://www.myersmotors.com/video.html
Aptera http://en.wikipedia.org/wiki/Aptera_2_Series
Tools Used:
http://www.analyticcycling.com/ForcesPower_Page.html
http://www.racingaspirations.com/apps/suspension-geometry-calculator
http://www.carbibles.com/
High Level Goals:
- $5000 initial budget. Expensive upgrades such as jet turbine will be added later
- Accept as many different kinds of (common) fuel as possible
- 400 pounds max including the driver and a backpack.
- Must operate on gravel roads with mud, rain, snow, and mild potholes at 35mph and up to 20% slope for 1/4 mile
- Full suspension
- 50 mph top speed on a dead battery, 70 mph top speed with full battery
- 80+ mile range
- Licensed as a motorcycle "hybrid electric plug-in motorcycle" in Oregon
http://www.oregon.gov/odot/dmv/pages/vehicle/electric_hybrid.aspx
- Relatively "safe" and durable compared to motorcycles in general
- Custom build parts from scratch only when there is a clear advantage in doing so.
- Single seat convertible cockpit
- Two non-drive wheels in front, one rear drive wheel
- Reverse drive a must
- Water cooling/heating system in place of AC
Battery systems
Zero FX NMC 108V 20kW battery (includes BMS) and 1kw charger - $2800, beats Ping batteries for both value and performance. 4 hour recharge time from dead.
http://www.zeromotorcycles.com/shop/index.php?main_page=index&cPath=5&zenid=ndrco7u6b7f2u9h3b3rpoelq70
Bioenno 12V solar battery module for 12V systems such as LED headlights, cooling, etc $200 (purchased)
http://www.amazon.com/Bioenno-BPP120-Rechargeable-Phosphate-Controller/dp/B00ME985E8/ref=sr_1_2?ie=UTF8&qid=1434233525&sr=8-2&keywords=bioenno
Motor:
Hub monster mid drive $600, 30kw max, 94% efficient @ 3kw, temp sensor included.
http://endless-sphere.com/forums/viewtopic.php?f=31&t=46898&hilit=solar+charging
dimensions: 25.6 kg, ~35 lb
Flats are 15.5mm thick and 25mm long
The flange where you attach the rim to the motor is 6.5mm thick
110mm cover to cover. disk rotor mount is 35mm so the motor case is 145mm thick at the axle.
Driven by a pair of 100A controllers coming soon from John in CR - $400
Transmission:
41:37 gearing reduction with RK-M 420 chain - $50
The 41 tooth gear comes with the rear wheel assembly (see wheels section)
The 37 tooth gear can be purchased from e-bay by googling "JT Sprockets Steel Rear Sprocket 37T 420 Pitch JTR255.37" You will need to drill your own mounting holes to fit the hubmonster
Wheels:
Rear wheel: XR50 10" rim with 3" tires = 16" wheels, rated for ~68 MPH max - $250
Includes suspension
http://www.ebay.com/itm/REAR-SHOCK-SWINGARM-10-WHEEL-HONDA-XR50-CRF50-XR-CRF-50-H-RE05-/170278569231?hash=item27a564c50f&vxp=mtr
Front wheels:
14" FRONT RIM WHEEL HONDA XR50 CRF50 70 125 SDG SSR M WM16S - $140
http://www.ebay.com/itm/14-FRONT-RIM-WHEEL-HONDA-XR50-CRF50-70-125-SDG-SSR-M-WM16S-/330280224835?hash=item4ce63c4843&vxp=mtr
Front brakes:
Fully adjustable front suspension built following locost tutorial found here:
https://www.youtube.com/watch?v=6crOSs6LCTQ&list=PLU5T9pZe7Cq3edhr8lz4Qp2mPN4_3ABQN&index=25
Upper A-Arms: - $200
http://www.speedwaymotors.com/Adjustable-A-Arm-with-Cross-Shaft-Offset-Type-7-3-4-Inch,2118.html
Lower arms will have to be custom welded
Framing:
Inspiration from Formula 1 + Ariel Atom + Mini Baja
80 feet of 4130 steel, 1 inch outside diameter tubing with 0.083-inch wall thickness. - $400
Ripstop nylon kite fabric fully enclosed fairing, held in place by metal snaps welded to the frame - $100
Power Plants:
12V Solar: http://amzn.com/B00IK19VF6 - $229 (purchased)
Gas Generator: http://amzn.com/B002RWK9N2 (already have one laying around. Tri-fuel conversion available)
Jet Turbine: http://www.jetcatusa.com/p80.html $2000 (delay purchase for last, like a cherry on top)
Common accessories for making cars street legal:
- Two white headlights on at all times, mounted no lower than 22 inches and no higher than 54 inches from the ground. Must be aimed to illuminate 500 feet of roadway while keeping the center of the beam below the height of the lightbulb.
- At least one red taillight no lower than 15 inches and no higher than 72 inches.
- At least one red brake light
- License plate illuminated at all times
- Two amber turn signal lights (visible for 1000 feet)
- At least one red rear reflector no higher than 60 and no lower than 15
- At least one rear view mirror
- Horn
- Fenders on all wheels
- At least one brake operated by hand or foot
- Exhaust system below 80 decibels and no visible emissions
- All lights must be DOT compliant
- Engine exhaust system must have a muffler
- Odometer, Speedometer
- Any sound besides engine noise must be inaudible past 50 feet from the vehicle.
- Pedals must be at least an inch and a half from the floor when fully pressed.
In Oregon, motorcycles must have:
Between 1-3 white headlights, illuminated at all times.
At least one red taillight with a red stop lamp.
At least one red reflector on the rear
A valid license plate mounted to be easily read and plainly visible from the rear.
one white license plate light
one rear-view mirror and a horn.
Turn signal lights.
Fenders on all wheels.
At least one brake operated by hand or foot.
An exhaust system in good working order and in constant operation. The exhaust must prevent the discharge of any visible emissions and keep noise levels at or below standards set by the Department of Environmental Quality.
Cargo toolkit
- Spare inner tube
- Zip ties
- Light rope
- High strength tape
- Pliers
- Allen wrench set
- Two monkey wrenches
- Screwdriver
- Hammer
- spare tire
Brainstorming ideas:
Avoid dashboard buttons. Put everything on the steering wheel.
Lever system instead of steering wheel?
Water cooled/heated chair in place of AC
Bluetooth radio, speakers and woofer
http://www.amazon.com/gp/product/B00U6TJBX2?psc=1&redirect=true&ref_=oh_aui_detailpage_o00_s00
- Phone integration
- Onboard computer with electronic HUD on windscreen
remote ignition
Pushbutton ignition
- Interchangable rim mountings for different rim patterns and types
- Seat cushions/backs are easily swapped out using velcro.
- adjustable, removable seats
- Wherever possible, steel tubing will be bent instead of welded.
- CAD fatigue analysis
- adjustable steering wheel
Durability is an important safety consideration.
Additional deployable solar charging.
LED lighting strips for tail lights
http://www.customdynamics.com/truflex_flexible_led_lighting.htm
Independent braking option for each of the three wheels
Tire tube caps with pressure gauge built-in
Cruise Control
Light sensor (automatic headlights)
360 degree cameras
radar/laser/sonic distance sensors