Joined

Feb 23, 2015
Messages

867
Location
The conversion from a Cyclone 6k motor to a QS 2000 motor is done. Was the change worth it edirtbike wise? YES -- more power and very smooth hillside starts with the Votol 100 amp sine wave controller.
The finished product: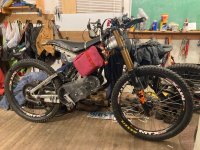 QS 2000 build features:
Can employ copies of some parts of the Cyclone motor frame in the build.
The motor frame will hold the motor just out of the way of front wheel shock travel. This forward position will lessen wheelie initiations.
The motor frame hinges in the middle and allows for easy chain tightening.
And there is something in the design for those that hate the planetary Gearbox of the Cyclone motor. I hope I can enjoy the noise the secondary chain drive adds.
This motor plate fit/adaption (herein described is for 68mm BB shell) for QS 2000 & QS3000 (not the QS1000) works using the Cyclone frame plates because these motors Cy 3k ,Cy6k, QS 2000 & QS 3000 all have an outer mounting bolt pattern to the motors circular rim of 120 mm diameter.
The Cyclone motor frame does not have motor chain adjustment but uses a chain tensioner. The conversion from Cyclone motors to QS motors is a simple "extension" of what they have already done to go from the Cyclone 3k to the Cyclone 6k. The Cyclone 6k motor is 5" long and the QS 2000 motor is 6" long. You will need a 1.375 x 24, 68 mm BB shell(obtain from a frame builder), a threaded male 1.375 x 24 tpi coupler and lock nuts and/or threadlock. I have used 2 of the thicker (1/8") right side Cyclone motor plates as the offset left side would need some bending to possibly work. In the photo below imagine the lower BB shell as your bikes 68 mm BB shell.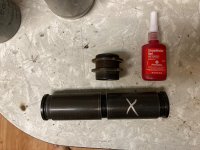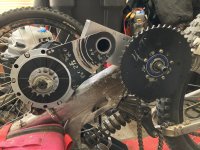 Using the above BB shell extension hingeing on the bikes BB shell will force bigger diameter motors location down because of slant tube location. When using flat motor plates on both sides the left side will take up some crank arm space.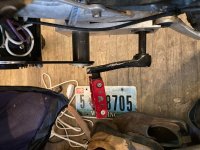 A "Z" shaped left motor plate like Cyclone employs would yield a little more space.
I did not continue with the above mentioned simple QS2000 adaption as I wanted built-in chain adjustment. My continuation of this post will be on such an adaption/modification to make such a motor frame.