Joined

May 7, 2011
Messages

1,016
View attachment 1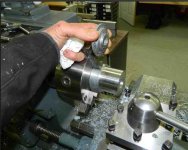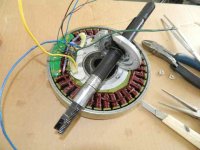 I am going to convert my Giant DH to a mid drive. One bonus with the Giant is I have the option of placing the motor within the front triangle instead of with in the swing arm should I end up going for a front triangle placement of the motor.
I am making some progress on converting the mac 10t thanks to the "crossbreak" thread and "spiningmagnets" detailed step by step walk through of the process explained on….. http://www.endless-sphere.com/forums/viewtopic.php?f=28&t=45245&start=450 . The plan is to first convert an old Mac 10t for this build and if it goes good then I will take my newer Mac 10t and do the conversion to it and use it in this project for the final drive.
Shown in the photos attached is my Giant in its current state with a mac 10t in the wheel. 48v 20ah 35amps to give 1600 watts. Also shown is the start of the conversion process to make this mac motor spin a drive sprocket from its axle. The stock in the lathe chuck shown will be turned to replace the aluminum collar shown in the same photo.
The motor conversion is clearly spelled out in the link above from the cross break thread so I will take care of that first. What I am not sure on at this point is to go with the FW on the left side of the motor which is the best solution for FW issues but I worry this FW placement could cause suspension chain line and chain growth problems when it comes to working with a full suspension bike. I feel the easiest for me is to place the motor in the front triangle and then drive my crank assembly with this converted motor and then the crank assembly drives the wheel with out any suspension surprises to the chain line. So I am still looking into the best crank assembly FW solution to make this work and I also would like to use an internally geared bicycle hub to help with chain line issues. I may just stick with a common derailer system to start with as the rolloff rear hubs are a bit too pricey for me. If the bike works real well then I may spring for a nice internally geared hub down the road.